Through a grant with The NH Alliance for Health Aging, a Paul Helfinstein was chosen to represent ICCI as a Volunteer driver. Only two other organizations in this region were chosen to take part in this initiative.
Paul was interviewed about why he likes to volunteer as a driver for ICCI, how he got involved, the benefit he provides to others and the benefits he receives as a Volunteer.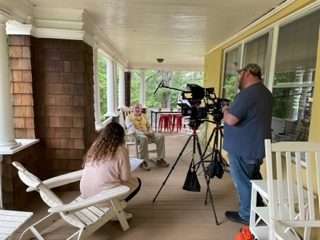 This is a Statewide initiative to recruit more people as Volunteers and acknowledge the incredible contribution they make in the state of New Hampshire.
Paul always says that he "receives more than he gives" and that he loves helping people. Volunteers like Paul are "invaluable;" he embodies the true meaning of giving oneself. He drives two times a week on average and is willing to do long distance driving to medical appointments as well as shorter drives for prescription pick-ups or grocery shopping. He helps out in the office when his driving schedule permits and truly embraces the gift of volunteering!
This interview will appear in TV and print advertisements sometime mid-Summer.
The NH Alliance for Healthy Aging strives to create communities that support all of us as we age. As part of an effort to ensure transportation options are available and accessible to enable NH residents of all ages to get jobs, connect with family and friends, and continue to access the best parts of our communities, the NHAHA Transportation Workgroup has launched a statewide volunteer recruitment effort to support the state's many Volunteer Driver Programs. This initiative involves a collaborative group of non-profit organizations serving residents throughout New Hampshire.