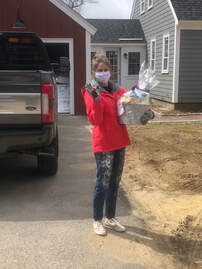 When Interlakes Community Caregivers' Spring fundraising events had to be cancelled due to the Coronavirus pandemic, we made an urgent request, and your response exceeded expectations.  We raised over $16,000!  Thank you!
While adapting to the many challenges the current pandemic is forcing upon all of us, the need to fund the program to continue to provide essential services was an important thing to do.  We are very grateful for the generous support from the community, which is a testament to the value of our services.
The two Spring fundraisers previously scheduled were the "Spring Fling" at The Mug Restaurant in Center Harbor and Free Cone Day at Ben & Jerry's-Meredith. The loss of these two fundraising events meant we would be short on income on which we were relying and asked you to make a special donation to offset this shortfall. And you did!  Thank you!
Local businesses and individuals had already donated several gift baskets for the Spring Fling event, valued up to $265. As a thank you for a donation of $25 or more,  148 donors were entered to win the gift basket(s) of their choosing. Gifts and Gift Baskets were generously donated by  Abbott Farm, The Barnstormers Theater, Ben & Jerry's-Meredith, Chickadee Station, Common Man Family of Restaurants, and Lamprey Septic Services, and Board Members Connie Cunningham, Marie Samaha, Peter Van Winkle and Robin Woodaman.
Winners of the gifts and gift baskets have been notified and delivered.  Several of you suggested we donate to a neighbor who could use a "pick me up" – and it did!  Neighbors were surprised, happy and grateful!
During the current Coronavirus pandemic, we continue to fulfill our mission with modifications thanks to our volunteers who are shopping for groceries, running errands, and driving neighbors to urgent medical appointments while following health precautions. As Community Caregivers provides services free of charge and receives no Federal funding, the nonprofit organization relies on your charitable giving, grants and fundraising events.
Please note that our staff has been working from home, but is in the process of phasing in regular office hours during the Governor's "Stay at Home 2.0" orders; phone lines are being monitored if no one is in the office.  Please contact me with any questions – we are very grateful to you all!