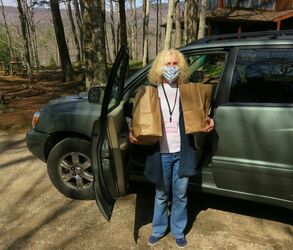 Interlakes Community Caregivers continues to provide essential services during the current Coronavirus pandemic.
"This has been a very fluid situation requiring a lot of adjustments, accommodation and communication. Thanks to our compassionate and flexible volunteers, I am happy and humbled to share that, in the face of these challenges, Community Caregivers is fulfilling its mission," stated Ann Sprague, Executive Director.
In order to meet the needs of our neighbors, Community Caregivers is monitoring its program and services and making adjustments accordingly during the current health crisis. Staff and Board members have kept abreast of local, State and Federal authorities' guidelines which have required the ability to strategize and modify protocols and procedures to address health and hygiene concerns.
Community Caregivers is currently focusing on grocery shopping and running errands for our neighbors. Due to physical distancing, volunteers are not taking neighbors for these essential services, but have been willing to shop for or pick-up and deliver groceries to our neighbors. Prescription pick-up and delivery continues. All include implementation of guidelines provided by public health authorities.
Although most medical appointments have been cancelled by medical providers, some are deemed urgent and neighbors need rides to them. New procedures such as sanitizing the volunteer's vehicle before and after the ride and having the neighbor ride in the back seat have been implemented. Rides to medical appointments typically are the #1 requested service by neighbors, making up about 90 percent of services. Friendly visits have been temporarily suspended, but friendly check in calls have been encouraged to address isolation.
We continue to communicate with medical facilities regarding pending appointments and with local grocery stores to understand and communicate best shopping procedures. Prior to the ultimate temporary lock down of local nursing homes and 55+ communities, we reached out to them to learn their transitioning requirements.
Thank you to the Meredith Altrusa Club for providing free, hand-made face masks and Liz Breton, Manager of Ben & Jerry's-Meredith for creating ear savers which have been distributed to volunteers.
Please note that staff is basically working from home and office hours are intermittent during the Governor's stay at home orders, but phone lines are being monitored.