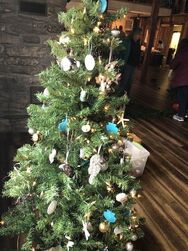 Once again, ICCI will participate in the Altrusa Festival of Trees which takes place at the Barn at Waukewan Golf Course in Meredith. 
Below are the dates and times to view the beautiful trees:
Friday, Dec 6 2-6pm
Saturday, Dec 7 10am-5pm
Sunday, Dec 8 12 noon-4pm
Admission for Adults $5
Trees will be auctioned and sold and others, such as the one donated by ICCI, will be donated to a family in the community who might otherwise not have a tree.
The Theme this year was Carpe Diem – "Seas" the Day!  The tree is decorated with lovely nautical ornaments.   Stop by to view these lovely trees.