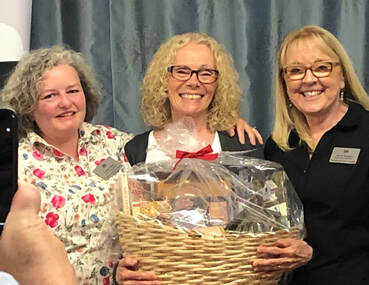 Interlakes Community Caregivers paid tribute to our volunteers at the 2019 Annual Meeting and Volunteer Recognition celebration recently held at the Wicwas Grange Hall in Meredith Center.
"Our volunteers are at the heart of what we do.  Their volunteerism allows us to respond to the needs of the community to support local residents' desire to remain living in their own homes,"  said Ann Sprague, ICCI Executive Director.  "In 2018, we provided 2,686 no-fee services and drove 50,686 miles to do so."  She went on to indicate that the typical Community Caregivers' neighbor is increasingly older and female with 75% over the age of 70 and 51 in their 90s; three-quarters are female.
Connie Cunningham of Sandwich was presented the prestigious Charlotte A. Leavitt Award in Recognition of Outstanding Volunteer Service for her dedication, commitment and passion.
Other outstanding volunteers were recognized for their service over the past year.  Linnie Page of Sandwich drove the most miles (6,227) and provided the most amount of services (273). Sally Sibulkin of Moultonborough donated the greatest number of hours (364).
Long Distance Drivers Peter Olsen of Moultonborough and George Jewell of Meredith were declared "Long Distance Heroes" for driving neighbors to long distance medical facilities throughout the state and the greater Boston area.  Roger Blake of Moultonborough received a "Gentleman's Recognition" for his specific kindnesses and consideration as shared by our neighbors.
Ken Greenbaum, Meg Greenbaum, Deb Blake, and Ed Touhey were recognized for 10 Years of Service and  Peter Strople for 5 Years of Service.  Retiring Board member David Eastwood of Moultonborough was recognized for serving two terms on the Board of Directors, as Finance Committee Chairman and 10 Years of Service as a Volunteer Driver.  Each volunteer received gift baskets of goodies as a token of appreciation.
Community Caregivers is grateful to the Wicwas Lake Grange #292 for the delightful venue, to C.G. Roxane and McDonald's-Meredith for donated beverages, and to Karen Burnett-Curie for gift baskets.  Thanks also to all the volunteers who helped organize the meeting including Susan Amiss, Connie Cunningham, Sylvia Detscher, David Hughes, George Jewell, Charlotte Leavitt, Peter Strople and Dick Russell, and Ralph Watson for photography.
---