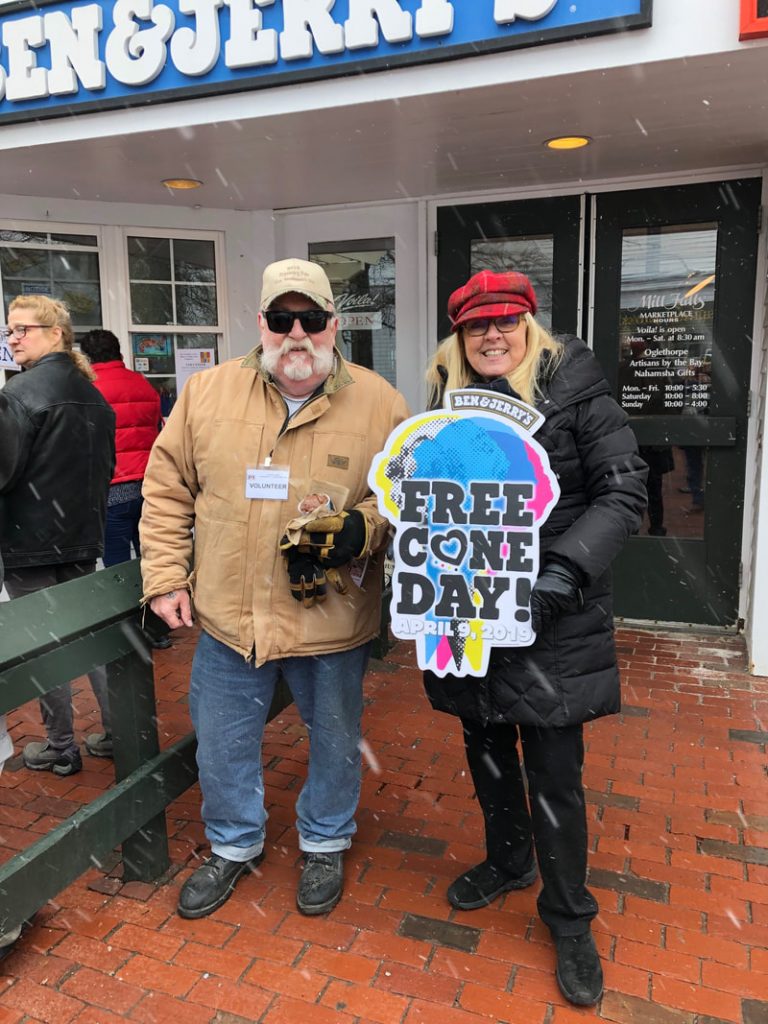 Ben & Jerry's recent Free Cone Day raised over six hundred dollars for Interlakes Community Caregivers, thanks to generous ice cream fans.
"It's always fun to partner with our friends at Ben & Jerry's Meredith and to see all who came for ice cream – despite the weather!" stated Ann Sprague, Executive Director.  The snow and sleet did not stop the approximately 750 guests who lined Mill Falls Marketplace throughout the afternoon and evening.  Buses came from the NH Veterans Home in Tilton and the Taylor Community in Laconia, many friends from Meredith Bay Colony Club, other Community Caregivers supporters and hundreds of ice cream lovers showed up to enjoy this year's ice cream flavors. 
Thanks to volunteers Sally Sibulkin, David Hughes, Sylvia Detscher, Fred Strader, Robin Woodaman, George Jewell, Mark Thiboutot, Kristy and Glen Badger, and Dave Eastwood who greeted guests, distributed flyers, and ice cream menus throughout the day outside.   Thanks also to volunteers Peter Olsen, Penny Morrison and Lisa Davis for scooping ice cream to help staff inside.
This is the third year of partnering on Free Cone Day with Ben & Jerry's, which has been working with Community Caregivers since 2003.  Another opportunity to support Community Caregivers while also enjoying Ben & Jerry's ice cream is the week of June 17 through 23 when a portion of the proceeds of all sales that week will go to Community Caregivers.​
---