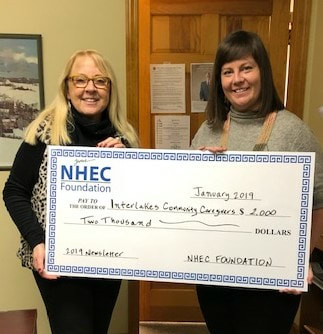 Interlakes Community Caregivers, Inc. is pleased to announce it has recently received a grant award from the New Hampshire Electric Co-op Foundation.
"We are very grateful for the $2,000 grant from the NHEC Foundation.  These funds will be used to support the production of our quarterly newsletter," said Ann Sprague, ICCI Executive Director."The ability to effectively inform the public, our donors, volunteers and neighbors about our services, activities and fundraising events is key to supporting our program which improves the quality of life for so many in our community.
The NHEC Foundation is a non-profit, tax-exempt 501(c) 3 foundation that provides grants to improve the quality of life for its members and the communities it serves. Founded in 2006, the NHEC Foundation is funded primarily through voluntary contributions of its members who participate in the Round-Up program and have their monthly electric bill rounded up to the nearest dollar.
For more information, visit www.nhec.com.
          If you'd like to receive our newsletter, please contact us!
Ann W. Sprague
Executive Director
603-253-9275, ext. 4
[email protected]
PO Box 78, Center Harbor, NH 03226

Neighbors Helping Neighbors Since 1998​