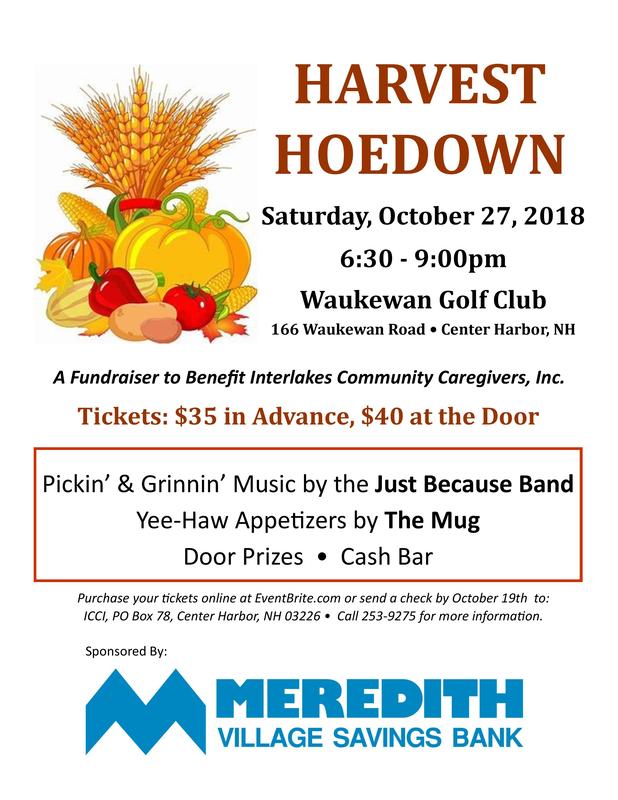 The Music performed by the "Just Because" Band was lively and enjoyable. The Food by The Mug was delicious and plentiful. The Bar-N at Waukewan Golf Club was a perfect venue complete with a crackling fire in the big stone fireplace. Pumpkins, Gourds and Apples donated by Moulton Farm added the perfect touch of added ambiance.
We are grateful to Meredith Village Savings Bank for their generous sponsorship. We thank Ed Bernard, Louise Bernard and Marty Bellinger of the Just Because Band, Paul Ursillo of The Mug, Tim Noe and Kim Hale of the Waukewan Golf Club, and John Moulton and crew at the Farm.
Thanks also to our many door prize donors: Mill Falls at the Lake, Interlakes Summer Theatre, Home Comfort, The Edge, Osteria Poggio, Robert and Karen Burnett-Kurie, Abbott Farm, The Sandwich Cellar, Barnz's Cinema and Meredith Station. Finally, thanks to our guests – a stalwart crowd who braved the first Nor'easter of the season to come have a great time in support of our mission.
I'd also like to recognize the volunteers who put this event together: David Hughes, Robin Woodaman and Susan Amiss. Thank you!