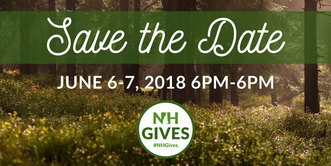 Interlakes Community Caregivers, Inc., a local nonprofit organization, will participate in NH Gives Day on June 6 and 7, 2018.  Visit www.nhgives.org for more information and select Interlakes Community Caregivers from the many nonprofits participating across the state to make a donation in support of their mission.
NH Gives, an initiative of the NH Center for Nonprofits, is a 24-hour, online fundraising event to celebrate local nonprofits, to build community, to amplify the generosity of NH citizens and generate excitement about the nonprofit sector.
Interlakes Community Caregivers' award-winning volunteer program provides transportation and other direct services to people in need due to their age, ability, economic situation or life circumstances.  Services include rides to medical appointments (both local and long distance), personal appointments, grocery shopping, running errands and more.
Services are provided by volunteers at no charge to residents of Meredith, Moultonborough, Center Harbor and Sandwich.
These services allow local residents to remain living independently in their own homes with dignity by providing access to health care, nutrition and socialization.  These services improve the community's livability, particularly for an aging population, and address such issues as transportation in a rural community, aging in place,  and senior isolation.
Interlakes Community Caregivers is celebrating its 20th anniversary in 2018 and has helped thousands in the community and their families over the past twenty years.  For more information, contact Ann Sprague, Executive Director, at 253-9275 or [email protected], or follow us  on Facebook.