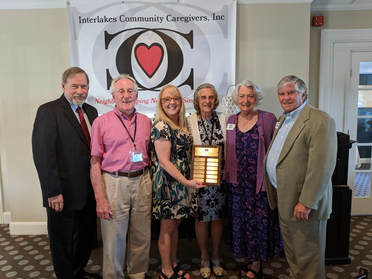 At the 2018 Annual Meeting, John and Joan Henderson were presented with the prestigious Charlotte A. Leavitt Award in Recognition for Outstanding Volunteer Service for their dedication, commitment and passion for the mission.
Joan began her service as a volunteer driver in 2001 and expanded her role in the organization by serving on several committees, on the Board of Directors and as Vice President of the organization. Joan was also a key player in the development of the Volunteer Education protocols and instructional manual.
John Henderson has been instrumental in implementing and providing analysis of the organization's annual appeal, the organization's major revenue source.  John has provided key support that has steered the organization to better business practices, including use of technology by assisting in the research and acquisition of the Assisted Rides technology program and a new database management system Little Green Light.
Thank you, John and Joan, for donating your time and talent, and for your long term, very generous financial support to Community Caregivers.  We are grateful!