7th Annual MiniGolf Tournament
Saturday, September 9th
Paradise Falls MiniGolf Course, 252 Lee Road, Moultonborough
Team Registration 1 PM
Shotgun Start 2:00pm
Sponsorships gratefully accepted. 
Team Sign Ups in advance.
Call 253-9275 for more information.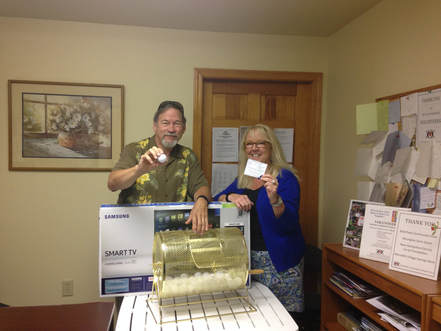 Interlakes Community Caregivers has expanded this year's annual MiniGolf Tournament fundraiser to include a Golf Ball Raffle.  Now through September 9th, for your donation of only $10 for a Golf Ball, you will be entered to win a flat screen TV. 
"Stop by our office or mail your check to make a donation and your numbered Golf Ball will be placed in our raffle drum for the drawing," said Ann Sprague, ICCI Executive Director.  
The winner will receive a 28" Samsung flat screen TV.  A "smart" television, the television has integrated internet and web features and can be used as a conventional television or as a computer monitor.
Golf Balls may also be purchased by mailing your check for receipt by Thursday, September 7th to:  ICCI, PO Box 78, Center Harbor, NH 03226. Be sure to include the phone number to be called when your winning number is drawn, and, to receive a copy of your receipt, please include your email address.
The drawing for the lucky winner will take place on Saturday, September 9th at the nonprofit's 7th Annual MiniGolf Tournament at Paradise Falls Golf Course, 282 Lee Road, Moultonborough.
The annual MiniGolf Tournament is a family-friendly event which has raised over $60,000 since the first tournament in 2010 and is the largest annual fundraiser for this nonprofit.  Up to 20 teams are organized, play through 18 holes and, while scores are being tallied, everyone enjoys a free ice cream sundae courtesy of Ben & Jerry's of Meredith.  Door prizes are given away and awards in various categories are presented. To form a team or learn about sponsorship opportunities, call Ann Sprague at 253-9275.
Lead Sponsors to date this year are Shep Brown's Boat Basin, Electrical Installations, Inc., McCarthy Lawn & Property Management, At the Lakes Vacation Rentals, DAK Financial Group, DeTolla Dental, Interlakes Animal Hospital, Interlakes Family Dental, Meadow Pond Animal Hospital, Meredith Rotary Club, Moulton Farm, Moultonborough Lions Club and Golden View. 
---