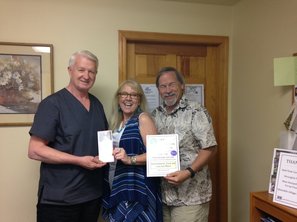 As the July 8th Silent Auction to benefit Interlakes Community Caregivers and the Lakes Region Food Pantry draws near, another great auction item has been donated by Relief Bodyworks and Massage of Meredith.  The public is invited to come and bid on this and the other hundred items, enjoy some entertainment and a barbecue on Saturday, July 8th from 3 to 7pm at the Moultonborough Function Hall (formerly known as the Lions Club building) at 139 Old Route 109, Moultonborough.
"I know firsthand the importance of caregiving and caregiver support since my wife's diagnosis of Parkinson's disease several years ago," stated David deSousa, the practitioner of Relief Bodyworks & Massage who has donated a one and a half hour massage treatment to the auction.  "It's my pleasure to donate to the Community Caregivers' fundraising effort."
DeSousa is a licensed massage therapist with over 300 hours of study from Steve Lockhart Myotherapy in Australia.  This is a unique method of treating acute and chronic pain by treating the entire muscle systems and has served hundreds of DeSousa's clients. Relief Bodyworks is located at the Wellness Center at Meredith Bay Colony Club.  For more information, visit his website ReliefBodyworks.MassageTherapy.com and contact him at 387-0950 or [email protected]
In addition to the auction at this fundraiser, Bryan Conway, a well-known local musician, will entertain the crowd with his songs, music and personality.  A delicious barbecue of hamburgers, hot dogs, chips and soda will be available at a nominal fee.  The 50/50 Raffle drawing will take place, with tickets on sale at the offices of both Community Caregivers and the Food Pantry and at the event ($5 each or 5 for $20).
There is something for everyone on the list of auction items, whether for yourself or as a gift to others.  The wide variety includes whale watching with the New England Aquarium, sunset cruises on Boston Bay, hopper passes to all four Walt Disney Parks and passes to the Magic Kingdom.  If dining out is your pleasure, gift cards from a variety of restaurants include Crazy Gringo, Fratello's,  Cactus Jack's, The Mug and Weathervane Restaurants.  Looking for a cultured night out? Tickets to the Capital Center for the Arts, Interlakes Summer Theater and the Winnipesaukee Playhouse can be yours for the highest bid.  Other gift cards include Hannaford and E.M. Heath Supermarkets, L.L. Bean, Aubuchon Hardware and more.  For a full list of auction items, see below.
2017 Silent Auction Items – Come Bid on One or More!
 
Alpine Adventures – 2 Gift Cards for Skyrider Zipline Tour Value $190
Aquaboggan Water Park (Saco, ME) – 4 Passes Value $80
Attitash Mountain – 2 Summer Passes Value $98
Aubuchon Hardware – $100 Gift Card
BarnZ's Cinema – 2 $30 Gift Cards
Bayswater Books – $50 Gift Card
Bolduc Park – 1 Round of Disc Golf for 4 Value $20
Bolduc Park – 1 Round of Golf for 4 Value $32
Boston Duck Tours – Value $83
Bretton Woods – 2 Ski Passes Value $80
Canobie Lake Park – 4 All Day Passes Value $152
Capital Center for the Arts – 4 Tickets to the MET 2017-18 Season Live in HD Value $80
Castle in the Clouds – 4 Passes Value $64
Common Man Restaurants – $50 Gift Card
Common Man Restaurants – $25 Gift Card
Conway Scenic Railroad – Passes Value $99
Corner House Inn – $25 Gift Card
Crazy Gringo –  $25 Gift Card
Cup and Crumb – 2 Gift Cards for a Dozen Cupcakes @ Value $60
Disneyland – 4 One-Day Hopper Passes to all 4 Walt Disney Parks Value $640
E.M. Heath's Supermarket – $50 Gift Card
Eastern Inn Resort No. Conway – 1 Night Stay with Breakfast Value $150
Fitness Edge – One Month Membership Value $62
Flatbread Company – $25 Gift Card
Flurrie's at the Bay – $10 Gift Card
Fratello's Restaurant – $25 Gift Card
Funspot – 2 $20 Gift Cards for Tokens
Gunstock Mountain – 2 Aerial Treetop Adventure Excursions Value $110
Hannaford Supermarket – $300 Gift Card
Hart's Turkey Farm Restaurant – 2 $25 Gift Certificates  
Hilltop Fun Center – 4 MiniGolf Passes Value $32
Hobbs Tavern – $50 Gift Card
Indian Head Resort – Dinner for 2 Value $75
Inn at Crystal Lake – $25 Gift Card
Inter-Lakes Summer Theatre – 4 Tickets Value $100
Irwin Motors – 2 NH State Inspections Value $80
Kayak – Brand New!  Value $650
King Pine Ski Resort – 2 All Day Passes
King Pine Ski Resort – One All Day Lift Ticket Value $40
L.L. Bean – 1 $200 Gift Card
L.L. Bean – 2 $50 Gift Cards
Lakeside Grille – $20 Gift Card
Lane's End Marina – $25 Gift Card
Longview Country Store – $25 Gift Card
Lost River Gorge Admission for 2 Adults & 2 Children Value $72
Magic Foods Catering – $25 Gift Card
Magic Kingdom – 4 One Day Passes Value $650
Margate Resort – One Night Stay for 2 with Continental Breakfast Value $150
Massachusetts Bay Lines (Boston) – 4 Sunset Cruise Passes Value $96
McDonald's – Dinner for 4 Value $32
Mill Falls at the Lake – Church Landing Overnight Stay Value $275
Mohegan Sun – One Night Mid-Week Stay Value $300
Mountain Adventure Park at Cranmore Mtn. – 4 passes Value $156
Mountain Bike Value $200
New England Aquarium – Whale Watch for a Family of 4 Value $142
Newly Caned and Refinished Chair by Rod Wilson Value $180
Paddle Boat with Bimini Value $300
Palmer House Pub – $25 Gift Card
Pats Peak Ski Area – 2 Lift Tickets Value $110
Piccolo Market – $20 Gift Card
Pirates Cove MiniGolf – 4 Passes Value $40
Polar Caves – Pass for 4 People Value $40
Popcorn Maker
Red Sox Baseball – Signed!
Refuge Hair Salon – Gift Basket Value $100
Relief Bodyworks – 1.5 Hours Massage Treatment $185
Shurfine Market – $25 Gift Card
Squam Lakes Natural Science Center – 4 Trail Passes Value $76
Subway- $25 Gift Card
Subway – Party Platter Gift Certificate  Value $40
T-Bones and Cactus Jack's Restaurants – 2 $25 Gift Cards
Thai Smile Restaurant – $25 Gift Card
The Edge Boutique – $25 Gift Card
The Mug Pub & Family Restaurant – $32.50 Gift Card
Universal Studios Hollywood -2 Annual Passes Value $250
Vacationland Bowling Center (Saco ME) –  2 Gift Cards for Bowling & Shoe Rental Value$50@
Village Carwash – $50 Gift Card
Village Kitchen – 2 $25 Gift Cards
Weathervane Restaurant – Lobster Dinner for 2 Value $30
Winnipesaukee Playhouse – 2 Tickets Value $30
Yankee Smokehouse – $60 Gift Card
York's Wild Kingdom – 4 Passes Value $89