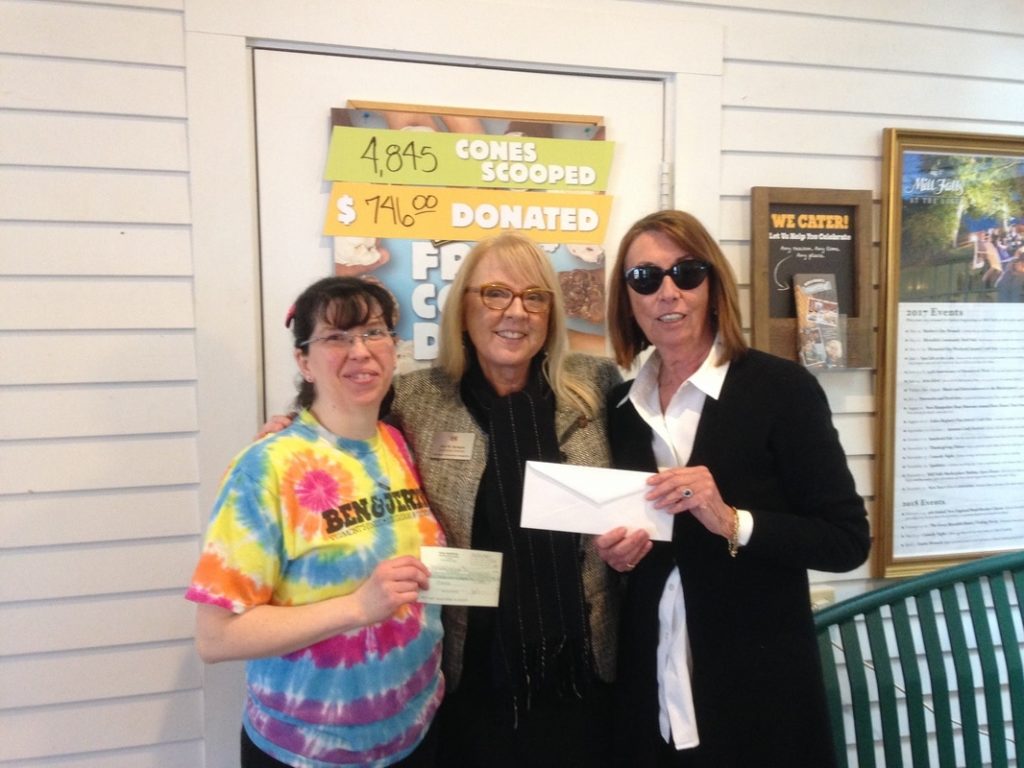 Ben & Jerry's recent Free Cone Day raised almost a thousand dollars for Interlakes Community Caregivers, thanks to generous ice cream fans and the merchants of the Mill Falls Marketplace Association.
"Thanks go to Ben & Jerry's Meredith and the Mill Falls Association for their generosity in supporting our local nonprofit," stated Ann Sprague, Executive Director.
This year at Ben & Jerry's Meredith, in addition to a free scoop of ice cream on their Free Cone Day, guests were encouraged to get a second scoop of ice cream for a $1 donation to Interlakes Community Caregivers. In addition to the nearly $800 raised through this promotion, the Mill Falls Marketplace Association donated $200 to Community Caregivers.
It was a grey and rainy day, but about 2,000 guests still lined the Marketplace up through 8pm. Community Caregivers Volunteers were on hand distributing flyers, ice cream menus, and encouraging selfies with the Ben & Jerry's ice cream cut-outs.
Sprague went on to say that Ben & Jerry's Meredith has been working with Community Caregivers since 2003, after the local scoop shop's owner, Jayne Cohen, had the personal experience of being the primary caregiver of an aging parent. "Although her family did not need direct assistance, Jayne realized how important our services are to families that do and Jayne has been dedicated to supporting our organization since that time in memory of her father, Marvin Cohen."
Another opportunity to support Community Caregivers while also enjoying Ben & Jerry's ice cream is the week of June 19 through 25 when a portion of the proceeds of all sales that week will go to Community Caregivers.
The local scoop shop is located at Mill Falls Marketplace, 312 Daniel Webster Highway, Meredith. Ben & Jerry's is now open 7 days a week. New this year, indoor seating will be available for the summer.